A new OMERA OPM 315 tons straight side mechanical press is available in our warehouse for short delivery. This state-of-the-art machine meets the requirements to benefit from Industry 4.0 financial incentives envisaged for 2021.
TECHNICAL DATA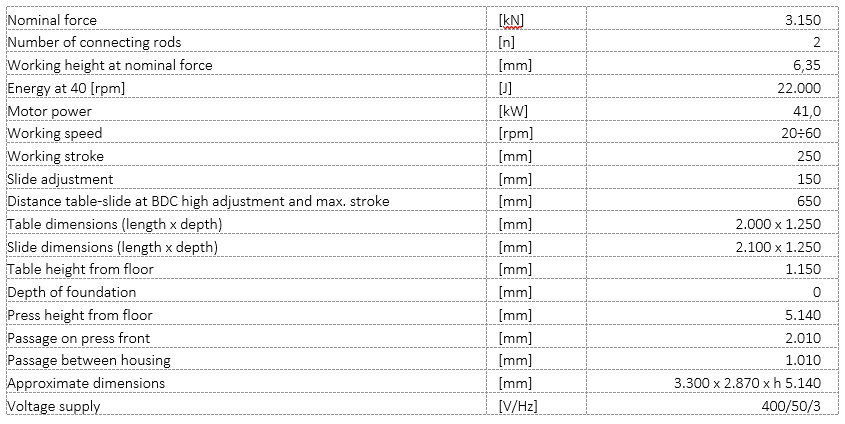 The machine is equipped with:
• Monolithic body
• Thrust sphere set
• Flywheel unit with brake/clutch with pneumatic control and double-body solenoid valve
• Lubrication system
• Pneumatic system
• Oil-hydraulic device of safety against the overload at quick discharge
• Drive system with PLC and control panel Siemens 12"
• Automatic regulations
• Motorized slide regulation with automatic calibration
• Balancer cylinders with automatic calibration
• Electronic cams
• Dynamic cam
• Variable speed motor with inverter
• Front pneumatic protection barrier
• Frontal "L" shaped light curtain, in addition to the physical protection barrier
• Rear pneumatic protection barrier
• Fixed Sides Guards with polycarbonate window
• Sound-damping panels
• Lighting of die area
• Crown perimetrical protection with ladder
• Thermal control of the bearings
• Vibration dampers
• Die protector
• Interface for automation
• VPN connection device for Teleservice
• OMERA "Industry 4.0" Evolution System
Why choose an OMERA straight side mechanical press?
Solid, reliable and precise, OMERA straight side mechanical presses are used in Blanking production, with progressive dies or with transfer dies. These presses are characterized by high rigidity of the structure, verified through FEM finite element analysis, and by the precision of the slide guide system. OMERA range of products provides for single or double connecting rod mechanical presses, with fixed or variable stroke and automatic stroke adjustment to cover all tonnages and specific needs.